Mia Garcia selected as one of the 2023 Women Veterans of the Year
HOUSTON, June 14, 2023 /PRNewswire/ -- The Department of Veterans Affairs, Center for Women Veterans (CWV), announced this week that Combined Arms' Texas Veterans Network, Executive Director, Mia Garcia was selected as one of the 2023 Women Veterans of the Year. Michelle "Mia" Garcia, a Marine Corps Veteran, is one of 21 women selected alongside two additional posthumous Trailblazer awards. The 2023 CWV Women Veterans Trailblazers "Women Making the Difference" initiative celebrates women who have served and separated from the service and make an impact by enhancing the lives of other Veterans, Veteran families, or Veteran caregivers.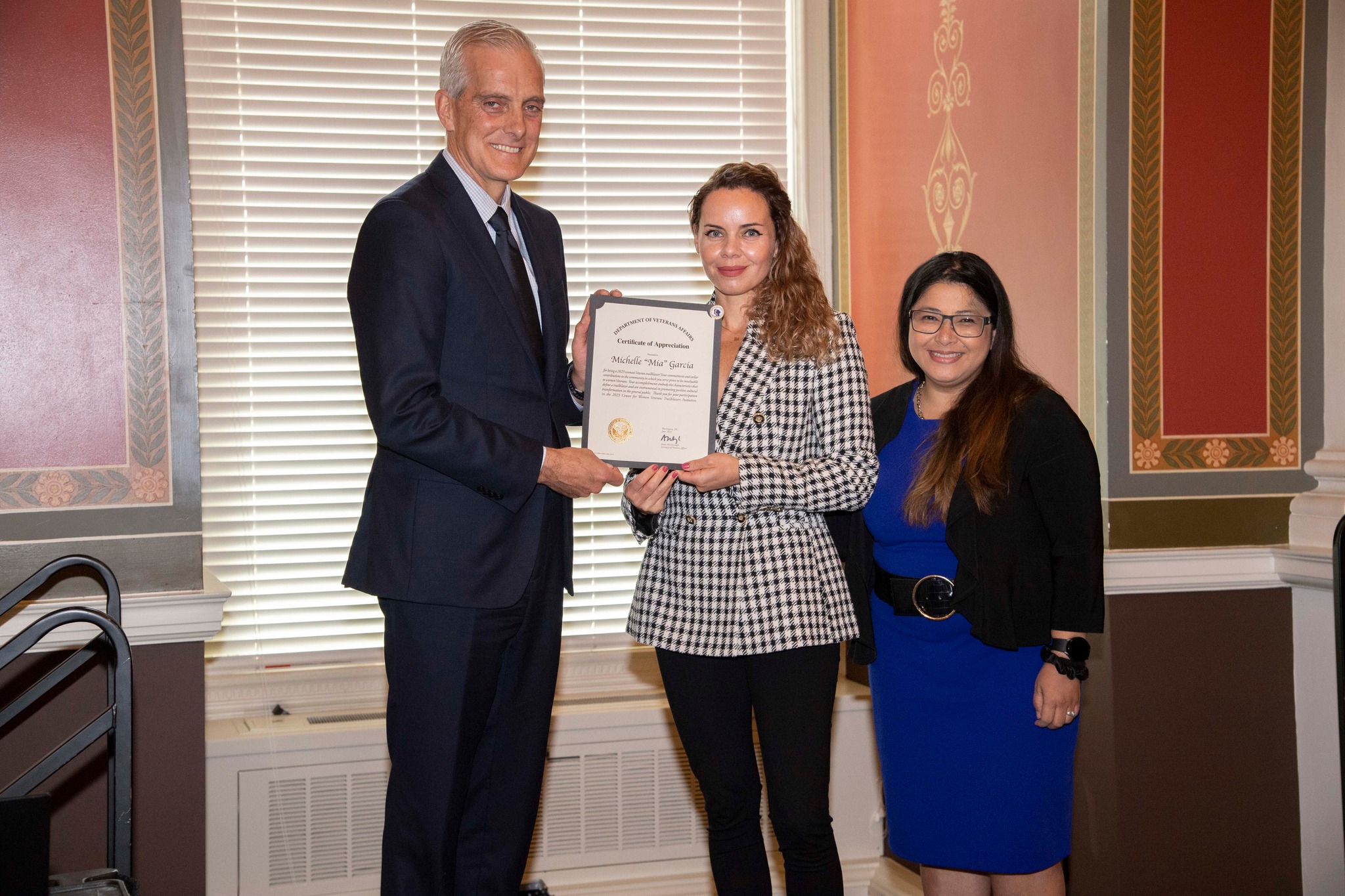 Photo Credit: Center for Women Veterans, U.S. Department of Veterans Affairs
Marking the Seventy-fifth Anniversary of the Women's Armed Services Integration Act of 1948 which officially opened service to women in the United States Military - the 2023 Women Veteran Trailblazers were recognized by the Secretary of Veterans Affairs, Mr. Denis McDonough and the Center for Women Veterans Director, Ms. Lourdes Tiglao in an event at the Library of Congress on Monday, June 12th in Washington, D.C.
Under Mia's leadership, the Texas Veterans Network (TVN), powered by Combined Arms (CAX), has grown to include more than 280 best-in-class, vetted veteran-serving organizations and state agencies that offer more than 1,200+ resources and services to transitioning service members, veterans, and their families. In just 36 months, TVN connected more than 40,000 unique veterans to resources which include: housing assistance, education, employment, entrepreneurship, legal, mental health and wellness.
TVN's Impact as of 1 June 2023:
42,647 unique veterans served

74,295+ completed resource connections

282 Member Organizations; 46 of which offer national service delivery

28-hour network-wide average response time (75% reduction in time to service since inception)

8% average increase in World Health Organization's Five Well-Being Index (WHO-5) scores for clients that have utilized the CAX system to access resources two (2) or more times

Created $265,303,249 economic impact to the state of Texas in 2022

The Texas Veterans Network team powered by Combined Arms was named a finalist in D CEO's Nonprofit Team of the Year
Learn more about the Center for Women Veterans and the other 2023 Trailblazers here. https://www.va.gov/womenvet/outreach/trailblazers.asp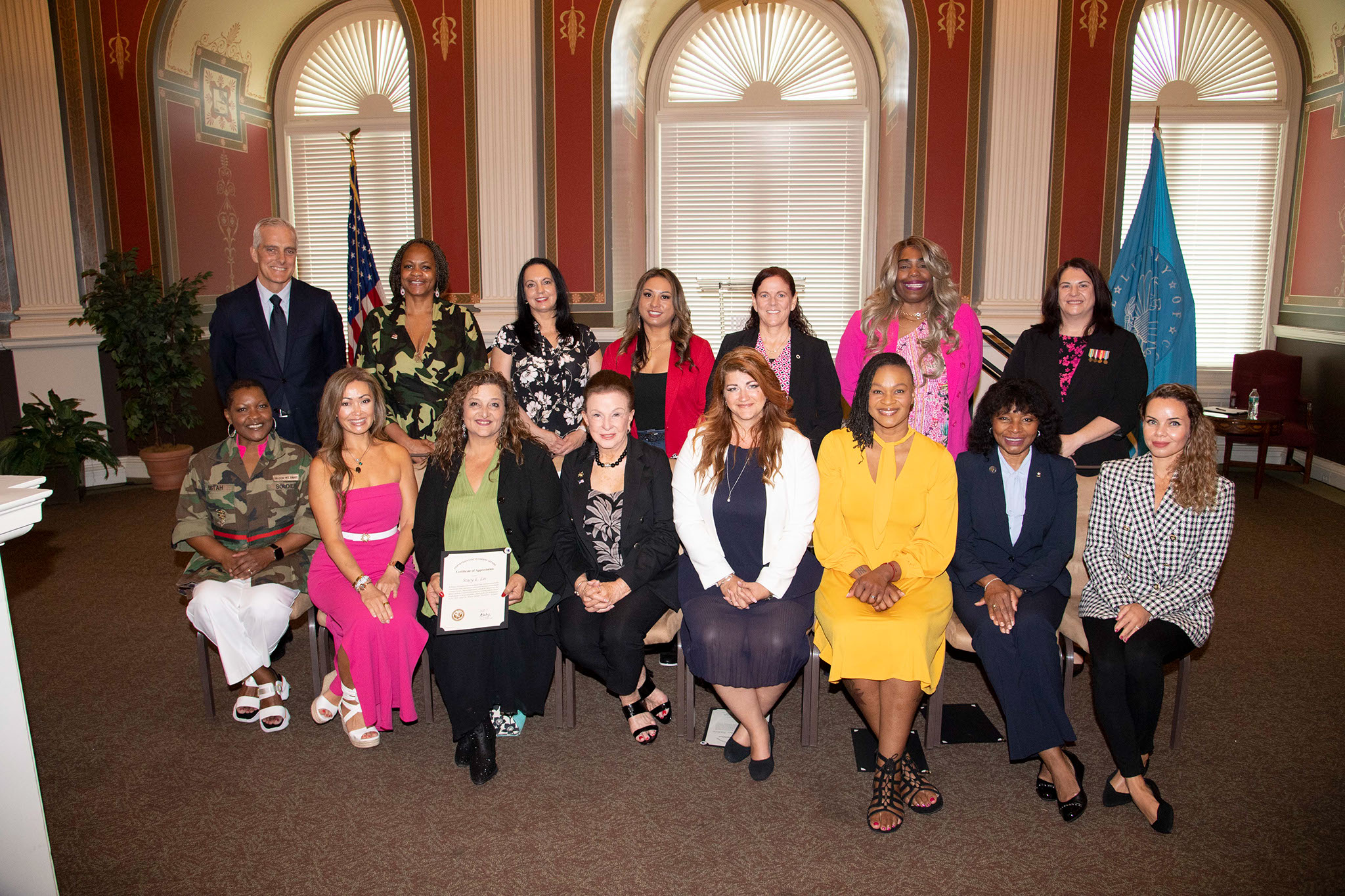 Photo Credit: Center for Women Veterans, U.S. Department of Veterans Affairs
About Combined Arms
Combined Arms (CAX) is a leading veteran nonprofit and provider of a highly advanced and user-friendly platform for veterans and military-connected individuals. The organization's nationwide solution was specifically designed to address the challenges faced by veterans in accessing vital support during their transition from military to civilian life. CAX serves as the sole provider of the Texas Veterans Network (TVN) which streamlines the connection for servicemembers, veterans, and military families to essential services in the communities where they live. At Combined Arms, veterans can find support across a range of dimensions, including health, employment, financial well-being, social connectivity, and community connection. Combined Arms supports the military-connected community. Follow Combined Arms on Facebook, Instagram, Twitter and LinkedIn.
Contact:
Kelly Finn Störmer
media@combinedarms.us
917-579-7397
https://www.prnewswire.com/news-releases/combined-arms-mia-garcia-named-2023-women-veteran-trailblazer-of-the-year-301850846.html